World of concrete review – 10 products you should know about

1. Spiked shoes

Spiked shoes aren't the most exciting piece of equipment I must admit, but contractors hate the hard, stiff bases and the fiddly buckles on the varieties typically used in Australia. Makeshift options like golf shoes are often tried to find something safer and more comfortable, but wouldn't it be nice if someone made a better shoe specifically for resin flooring contractors? A company called Midwest Rake have done just that with their Shoe-In Pro design that can be slipped on/off easily over steel-caps and feels more like a normal shoe than being strapped to a plastic board. These actually caught our eye on a previous trip to the WOC in 2015, however they're yet to gain much exposure in Australia and therefore worth a mention here.


2. Jiffy mixer

Unlike paint, two-pack epoxy coatings have components that need a complete blend in order to react fully and work properly. Contractors using any old blade to mix their floor coatings are setting themselves up for inconsistent results and a host of film defects. The fact is that most of the blades out there are actually stirrers, not proper coating mixers – there's a big difference! Blades designed specifically for coatings reduce splashing, decrease air entrapment, and enhance that all-important blending we just mentioned. The blades made by Jiffy are a good example of a proper coating mixer and we have used them for many years with great results.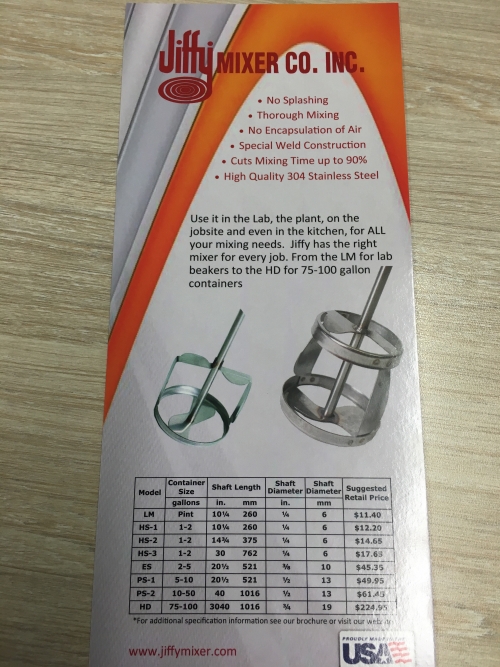 3. Knee pads
Just like spiked shoes, contractors have been crying out for a way to make working on your knees less painful. These pads from Troxell might be the answer. The features and benefits they promote are –
The wide band single strap is made of neoprene and sits below the knee leaving a clear zone so there is no bunching or pinching.
The Velcro closure means no buckles or clasps to fumble with.
Heavy-duty closed-cell foam cushion won't puncture or leak like gel pads and feels like you're floating on a cushion of air.
Note – We found these at a booth doing live flooring demos and selling application gear as well. The pads on sale were actually a different design, but all the contractors were using these during the demos. It was clear which ones they preferred!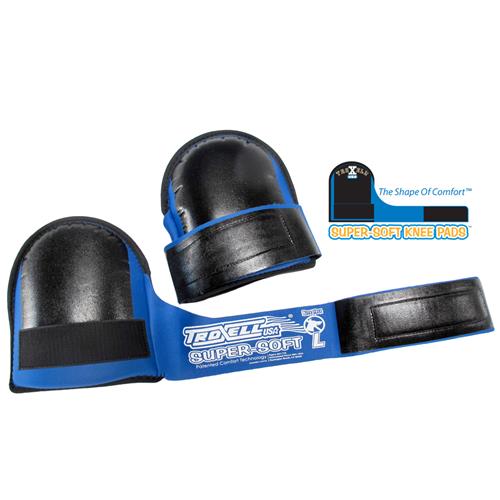 4. Diamabrush

The Diamabrush has been on our radar for some time because it's the perfect example of clever technology that simply hasn't gained any legs in Australia. Although it can do a host of things – mastic removal, sanding between coats, preparation of existing non-slip surfaces etc. – we see it as the ideal resin flooring concrete preparation tool for a number of reasons. Firstly, the key difference between this equipment and a grinder is the surface area in contact with the substrate is relatively small, which means you don't need heavy machines to make it work efficiently (tools fit to any Polyvac or rotary sander). Secondly, the brushes are flexible, so they follow the contours of the slab rather than trying to power through large humps. Finally, it eliminates the need to stock soft, medium and hard resin bonds for each grit size, which means much less consumables!
5. Shot blaster

Although there's nothing new about shot blasters, they made it onto the list because they aren't used much in Australia and the demos we saw reminded us of how good these machines are at preparing concrete for all types of floor coatings. Unlike grinders, which can be rather hit and miss as far as diamond selection, coverage and efficiency go, shot blasters create a remarkably consistent path as they move across the surface. The units are more expensive than grinders and they take a bit more training to operate properly, however they are actually quite cheap to run and deliver in spades as far as achieving a clean, uniform profile is concerned. If you're looking to take your business to the next level, it might be worth looking into what shot blasters offer.



6. Concrete cleaner and degreaser

Most contractors love the idea of acid etching, however concerns over safety and correct disposal, as well as the fact it did nothing to remove oil contamination, have seen this form of surface preparation almost disappear completely. A company we stumbled across called Synpro is trying to change that. They manufacture a range of synthetic acid products that clean, degrease and etch concrete in preparation for coating application. The patented technology is also bio-degradable, non-corrosive and not classified as a dangerous good for transport purposes. While acid etching will never replace mechanical grinding, having an option like this up your sleeve might be handy in some situations.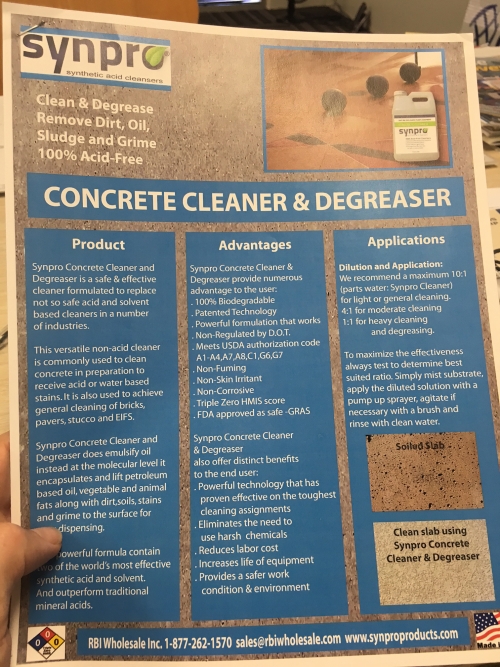 7. Low-pressure spray equipment

Most contractors doing big volumes or large individual applications have probably looked into spray/dispensing equipment and been turned off by the price tag of the conventional heated plural machines here in Australia. We've always wondered if there was a non-heated, low-pressure alternative that was more affordable and this year we may have found it! Adhesives Systems Technology (AST) manufactures an electrically powered unit that can handle viscosities up to 10,000cps (thick honey) and any ratio between 1:1 and 4:1. Best of all, it comes at a fraction of the price of the heater plural rigs.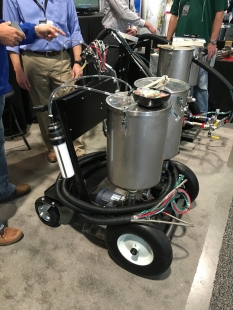 8. Easy squeegee

It's amazing how some of the most simple improvements can make the biggest of differences. The company behind the spiked shoes above, Midwest Rake, have done a similar thing to the humble squeegee and come up with the Easy Squeegee. It has several cool features, however the real drawcard is what they call cured coatings release technology, which makes clean up a breeze by snapping off hardened product with a simple twist rather than the messy solvent and rag/brush combination that often leave your fixings gummed up anyway.
9. Expansion joint repair

From questions on which materials to use right through to time consuming application, expansion joints are often a pain in the you-know-what for flooring contractors. We kept an eye out for anything that might make things a little easier and happened to come across two. The first is a nifty backing rod dispenser from a company called Albion. You can see in the video below just how quickly this gear works! The second is an alternative to the traditional caulking repairs in the form of a rubber-like strip called Trim-A-Slab. It takes only a fraction of the time to install and comes in 4 different sizes that can repair joints from 3/8" (10mm) up to 1-5/8" (40mm).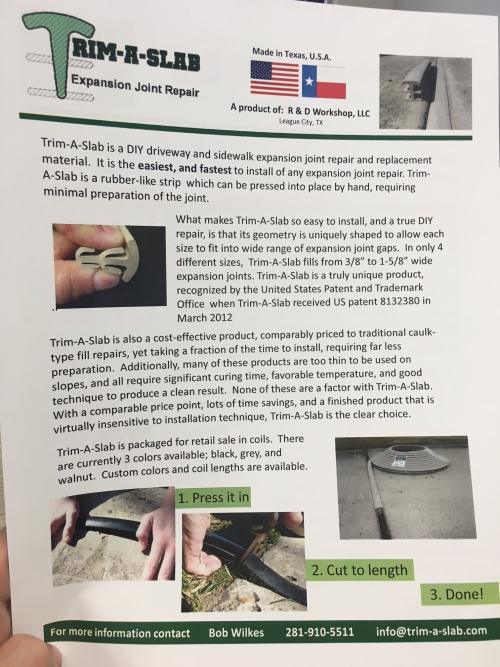 10. Mini-loader mixer

If you've ever been to the US you'll know they love everything BIG – trucks, houses, food...even their mixing equipment. With that in mind, we simply couldn't resist showing you footage we captured from a FasTrac demo. The company specialises in the large-scale delivery of concrete, grouts, screeds, levellers and various repair products through customised mixers that attach to skid steer loaders. Kind of makes a hippo mixer look small, doesn't it?


We hope you enjoyed our review and gained something from the products listed. Most of all, we hope it helped paint a picture of what the World of Concrete is all about and maybe even inspired you to attend next year.
Take care and keep smiling,
Jack
PS Do you like a big work ute? Check out this beauty!